---
Advent Quiet Day
From Despair to Hope

This year's Advent Quiet Day at St. Bede's is offered by The Julian of Norwich Center and is guided by Ms. Lea Robinson, RN, MSN and the Rev'd Lynnsay A. Buehler. There is a $40 fee (negotiable) and lunch is provided. Please call 770-938-9797 ext. 27 to register for the day.
---
The Spiritual Legacy of Reb Zalman

A new e-course by Nadya & Victor Gross and Sage-ing International
November 5 - 30, 2018
Rabbi Zalman Schachter-Shalomi (1924 - 2014), respectfully called Reb Zalman, was a pioneer in interspirituality, a founder of the Jewish Renewal movement, a catalyst for the spiritual eldering movement, and the founder of Sage-ing International.
You can read more about him in his Remembering Spiritual Masters profile. Sage-ing International and Nadya and Victor Gross will share stories from his life and kernels of his wisdom during the November e-course on his legacy. Learn more and sign up:
www.SpiritualityandPractice.com/SpiritualLegacyofRebZalman
---
Stay tuned for next announced events...
---
Powered by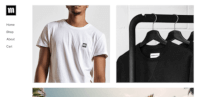 Create your own unique website with customizable templates.